EDIT MAIN
Home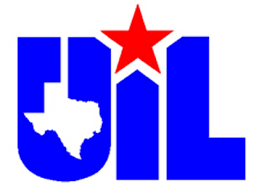 Participating in Academic UIL competition can be rewarding and FUN! If you are interested in participating in a UIL events this year then see Mr. Vannoy, CHS Academic UIL Coordinator, in room 407 or talk to the coach of the contest in which you are interested. Scroll down to see a list of this year's UIL coaches and events.
Benefits of Student Participation in Academic UIL Competition
2018-19 District 8-3A Academic Meet
This year's District 8-3A UIL meets will be held on the Midwestern State University campus and at Graham Memorial Auditorium.
The dates of the district meets are as follows:
C/X Debate: Monday, January ??, 2019 at ???
One-Act Play: Wednesday and Thursday, March 6-7, 2019 at Graham Memorial Auditorium
All Academic contests, STEM contests, Journalism contests and Speech contests: Thursday and Friday, March 28-29, 2019 at MSU
2018-19 UIL Coaches
Accounting - Mrs. Julie Olson
Calculator Applications - Mrs. Tanya Smith
Computer Applications - Mrs. Julie Olson
Computer Science - Mr. Kyle Vannoy
Current Issues & Events - Mrs. Melissa Vannoy
Extemporaneous Speaking - Mrs. Hannah Lathem
Journalism - Mrs. Hannah Lathem
Literary Criticism - Mrs. Cindy Caldwell
Lincoln-Douglas Debate - Mrs. Paula Read
Mathematics - Mr. Kyle Vannoy
Number Sense - Mrs. Tanya Smith
Oral Interpretation - Mrs. Hannah Lathem
Ready Writing - Mrs. Cindy Caldwell
Science - Mrs. Paula Read
Social Studies - Mrs. Melissa Vannoy
Spelling & Vocabulary - Mrs. Cindy Caldwell